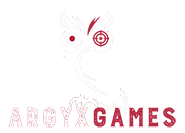 Created in 2018 by
Mathias Daval and Johanna Pernot
, Argyx Games is a French
independant game studio and publishing company
, based in Paris. We specialize in designing alternate reality investigation board games,
crafted by hand and released in limited edition
, as well as tailor-made murder parties, treasure hunts & live escape games. Our first game, "Apocalypse", was crowdfunded on
Kickstarter
in July 2018.
Argyx Games is also the publisher of a blog dedicated to reviewing live escape games, investigation games and board games in general:
Escape Box
(in French).