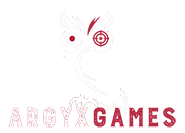 Created in 2018 by
Mathias Daval and Johanna Pernot
, Argyx Games is a French
independant game studio and publishing company
, based in Paris. We specialize in designing alternate reality investigation board games,
crafted by hand and released in limited edition
, as well as tailor-made murder parties, treasure hunts & live escape games. Their first game, "Apocalypse", was crowdfunded on
Kickstarter
in July 2018. Argyx then launched a series of investigation games, "Pocket Investigations".
Argyx Games is also the publisher of a blog dedicated to reviewing live escape games, investigation games and board games in general:
Ludochroniques
(in French).
Argyx Games, jeune éditeur spécialisé dans les jeux d'enquête, recherche 1 stagiaire pour l'aider dans son développement.
Mission
- Participation au développement de nouveaux jeux (tests, fabrication de prototypes...)
- Animation des réseaux sociaux
- Rédaction d'articles & contenu sur les jeux
- Missions de marketing (e-mailing, démarchage commercial...)
- Aide à la gestion quotidienne de l'entreprise
Profil
- Joueur, de préférence avec un intérêt particulier pour les jeux d'enquêtes (murder parties, escape games, soirées enquête, etc.).
- Bonne connaissance des réseaux sociaux (Facebook, Twitter et Instagram)
- Idéalement capable d'écrire en anglais
Début : dès que possible.
Durée : A déterminer. Temps partiel (12 à 15h/semaine à répartir)
Localisation : Paris 5e (possibilité d'une partie en télétravail)
@ Contact us